Munir is the private handicrafts business of Munira Akilova of Khujand, Tajikistan. Munira also acts as handicrafts consultant and designer for Armughon Handicrafts. Munira began her career in economics and spent 14 years as a university teacher, before she decided to leave the university and turn her embroidery hobby into a full-time business. Whenever she creates a new design, she "always tries to put a part of Zerafshan into it. It means all of products should have Zerafshani ornaments/patterns." She also thinks deeply about how the product will be used, by whom and when, and then focuses on color. As she explained, "Each piece has its own meaning."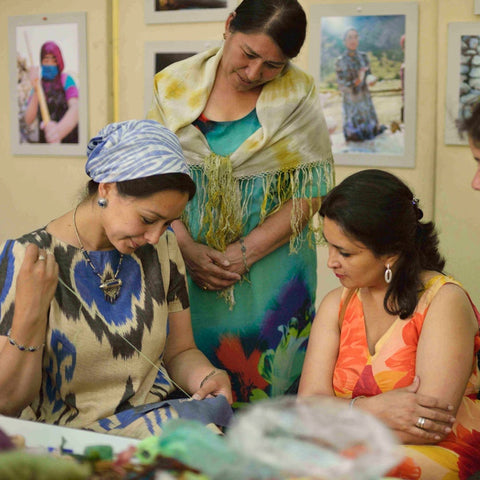 This is the process that led to the development of Munira's product designs that have received the UNESCO Award of Excellence for Handicrafts and other national and international awards. Munira also loves teaching and is a much-sought-after handicrafts and design instructor across the whole country.
In addition to embroidery and patchwork, Munir (formerly known as Arinumcrafts) produces one-of-a-kind jackets and vests for HoonArts that incorporate traditional handwoven ikats, embroidery and/or patchwork. Munira also produces framed embroidery art and other small ornamental pieces for Munir, working with a group of young women from Panjakent and other regions of the Sughd province.