Silk Road Cultural Discovery Tour
April 21-May 9, 2024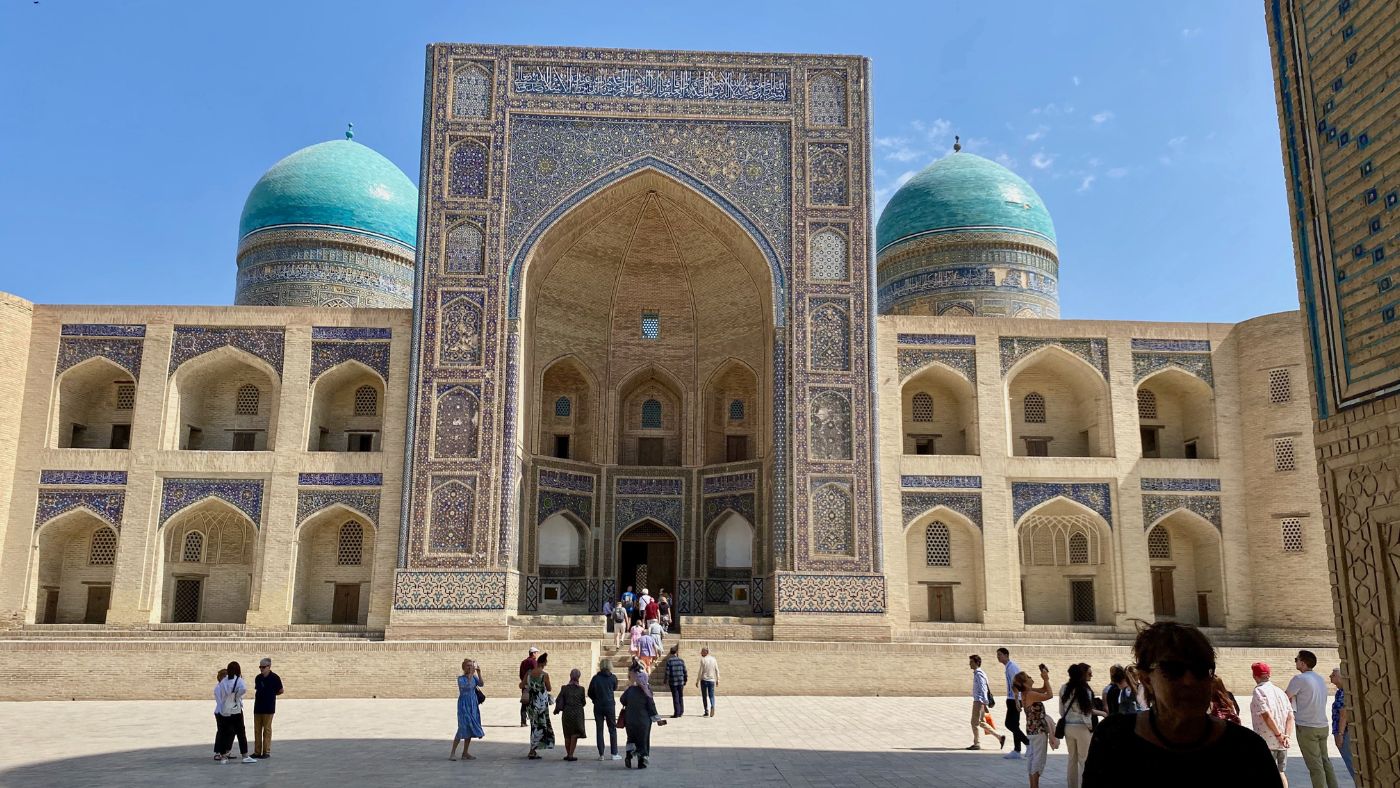 Join us in April 2024 as we embark on a captivating 18 day/19 night expedition through the enchanting Silk Road lands of Tajikistan and Uzbekistan. We've worked hard to design a unique and personalized tour that offers an intimate and immersive experience, allowing you to embrace the essence of "slow travel" and delve deeper into the heart of the Silk Road's arts and culture. We have carefully crafted an itinerary that showcases fewer locations, enabling us to spend more time behind the scenes, unlocking the hidden treasures of this ancient trade route and interacting with practicing artists and other locals.
One of the highlights of our tour is the privilege of having Munira Akilova, a renowned and international award-winning embroidery master from Tajikistan, accompany us throughout the tour. Her expertise and personal relationships will provide you with a true insider's perspective, offering a deeper understanding of the rich artistic heritage of the region.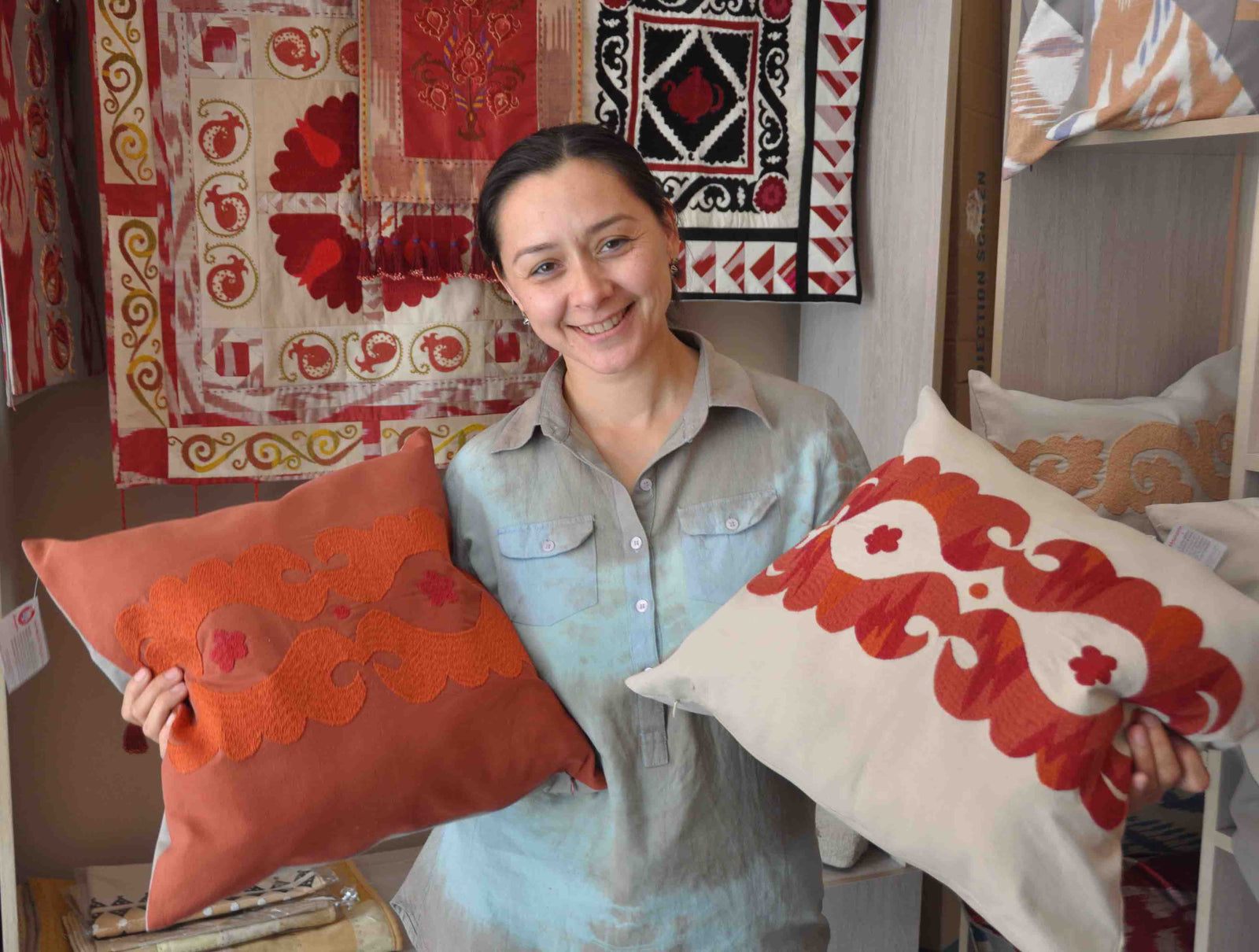 While immersing ourselves in the arts and culture of the Silk Road, we will also visit architectural marvels and historical sites that bring history to life. Prepare to be awestruck by the magnificent madrassas of Samarkand, among other architectural jewels and World Heritage Sites that will leave an indelible impression on your soul.
We want you to come home with the sense that you have actually experienced a genuine taste of the authentic Silk Road culture, rather than simply admired it "through the window" of the typical tour.
TRIP HIGHLIGHTS
Set out below is an overview of our planned itinerary and some of the highlights of our journey. This itinerary is flexible and remains subject to adjustment, depending upon conditions on the ground.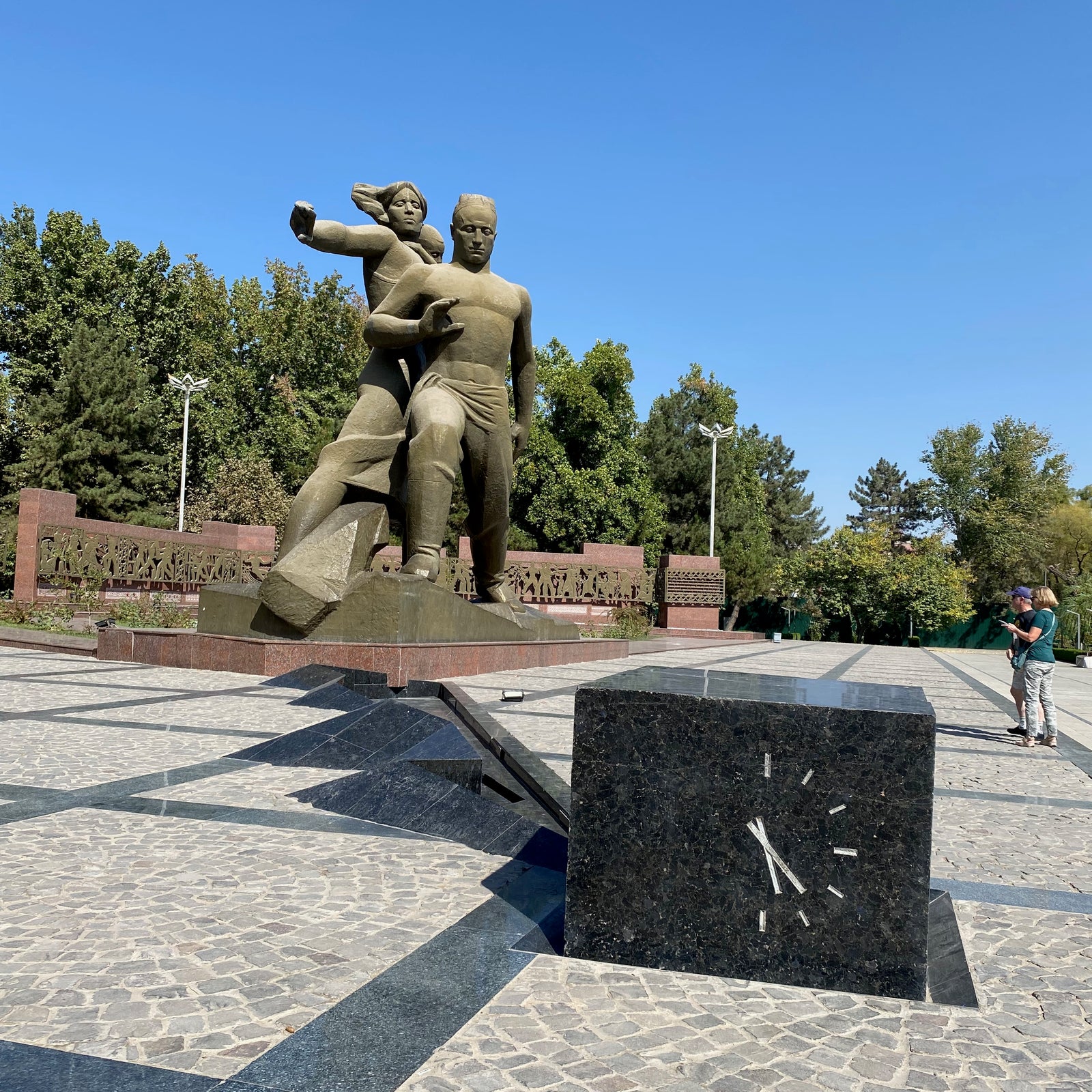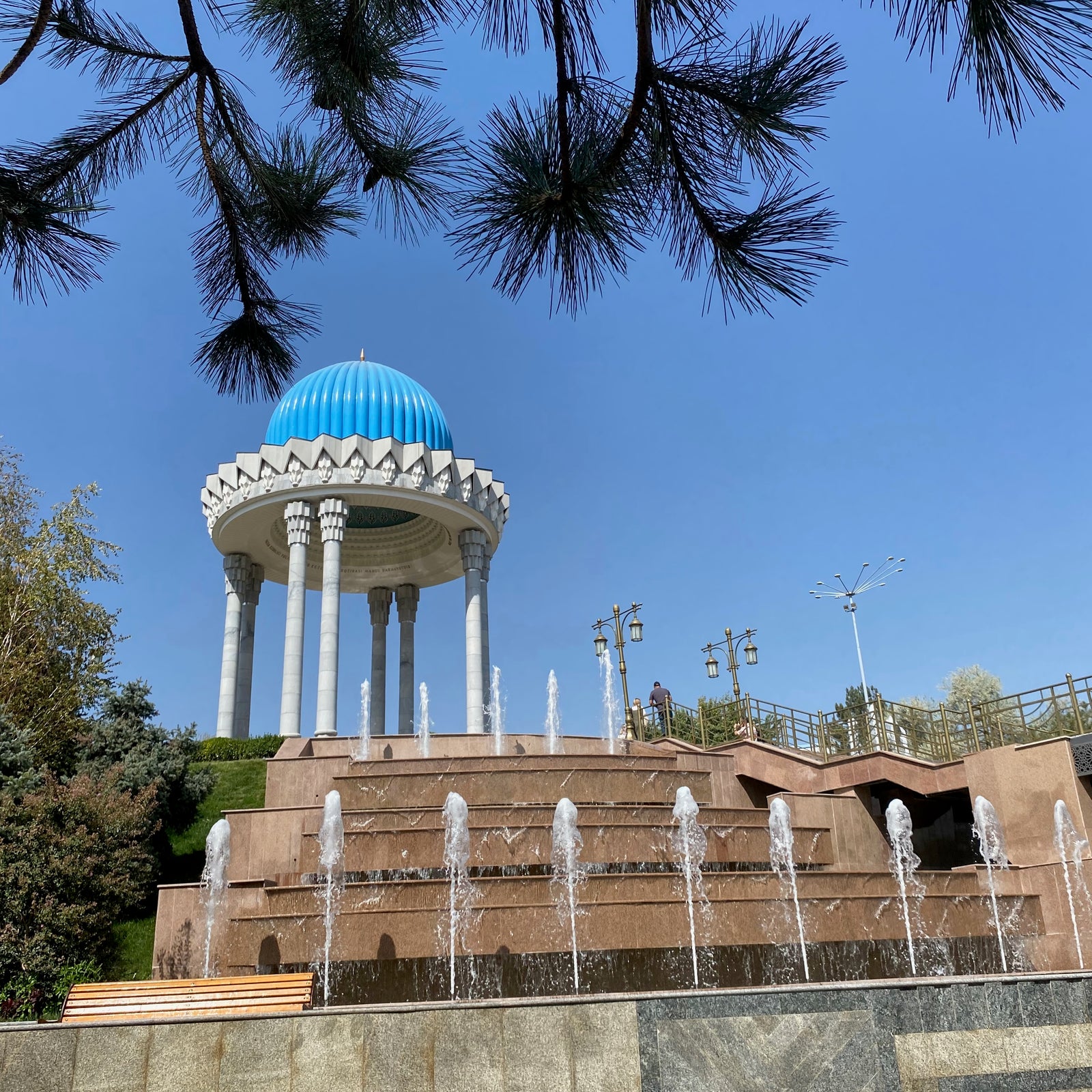 April 21: Arrive in Tashkent, Uzbekistan and early check in to hotel (Turkish Air connecting flights from US via Istanbul arrive at 12:55 am and 7:25 am). City tour and visits to local museum/gallery. Overnight: Tashkent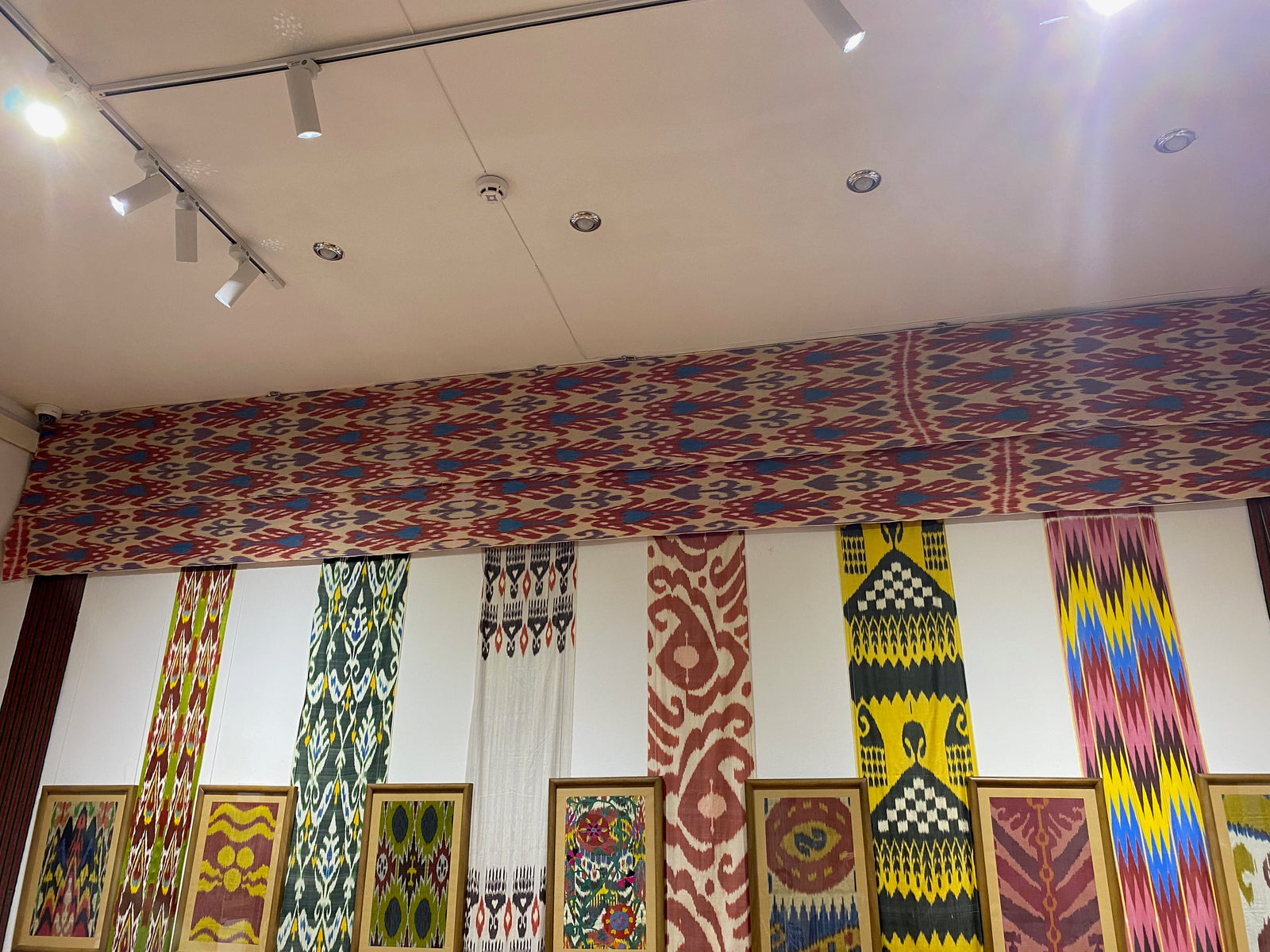 April 22: Visit to ethnography museum and special cultural program plus shopping at Human House, an extraordinary venue that intertwines the elements of an art gallery, a museum, a gift shop, and a café. Human House displays a wide range of items representing Uzbek culture, including ceramics, paintings, silk scarves, dresses, shoes, and various household items. Overnight: Tashkent
April 23: Tashkent: Visit to Chorsu Bazaar (the huge traditional bazaar) and shopping based on interests of participants. Overnight: Tashkent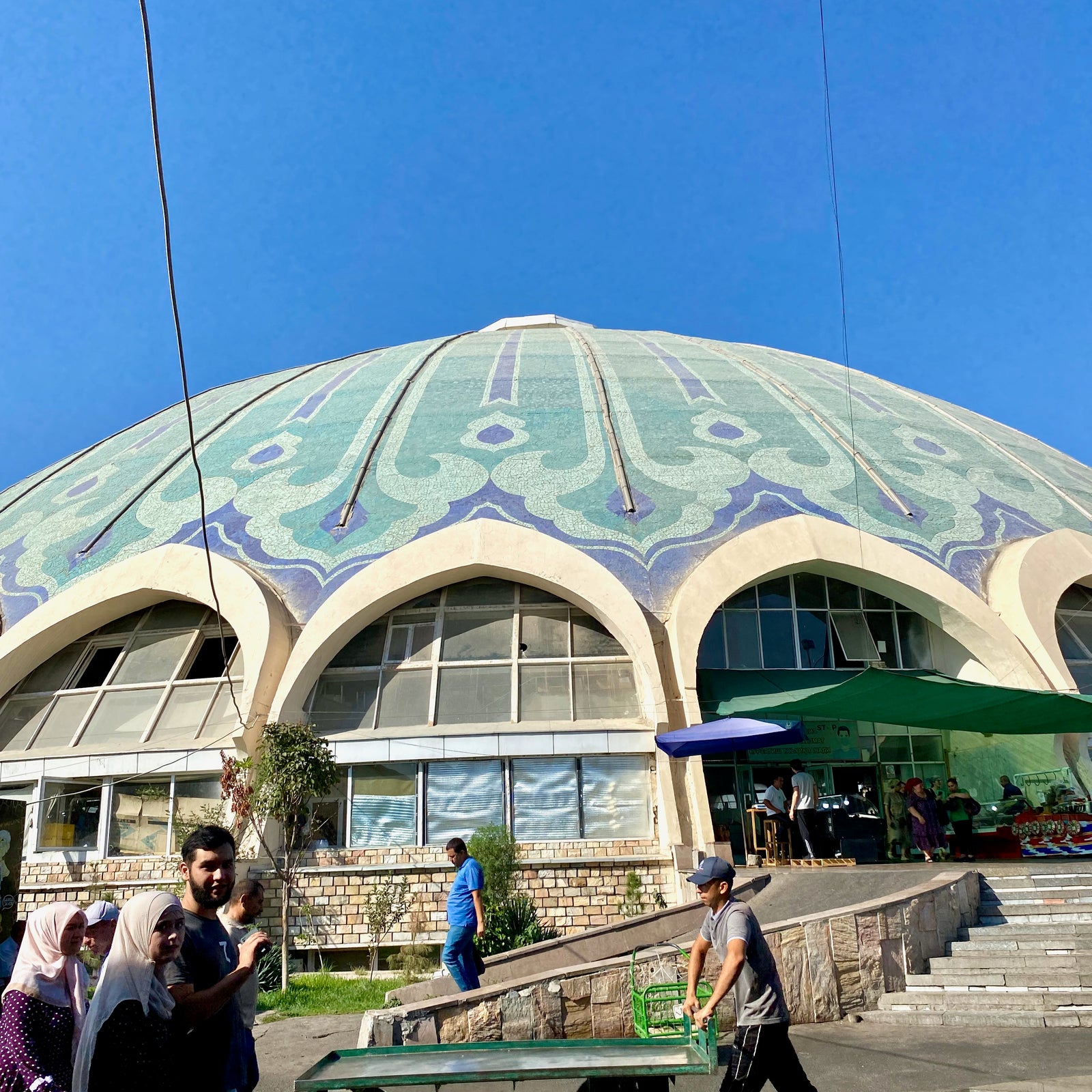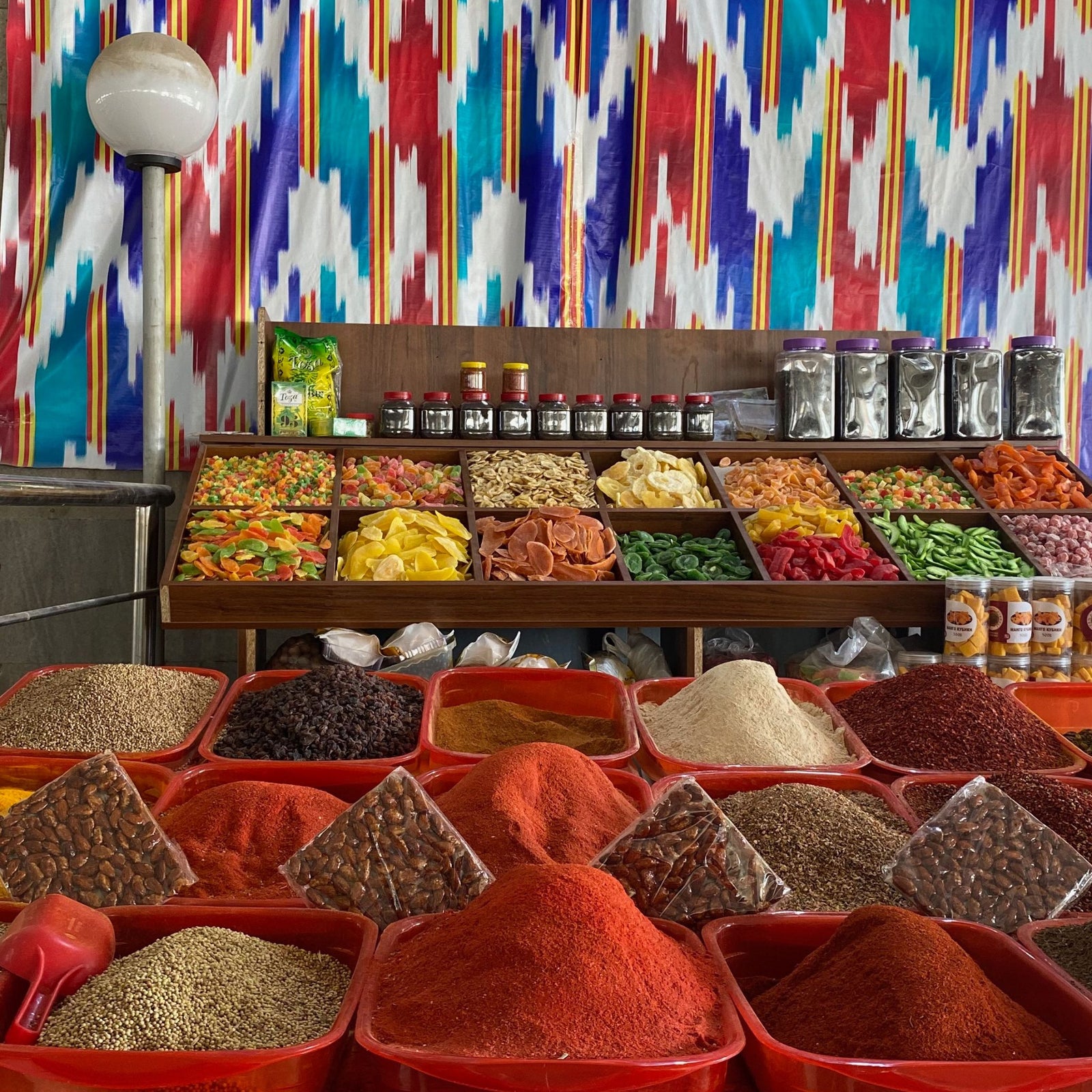 April 24: Flight to Dushanbe, the capital city of Tajikistan. City tour on arrival. Overnight: Dushanbe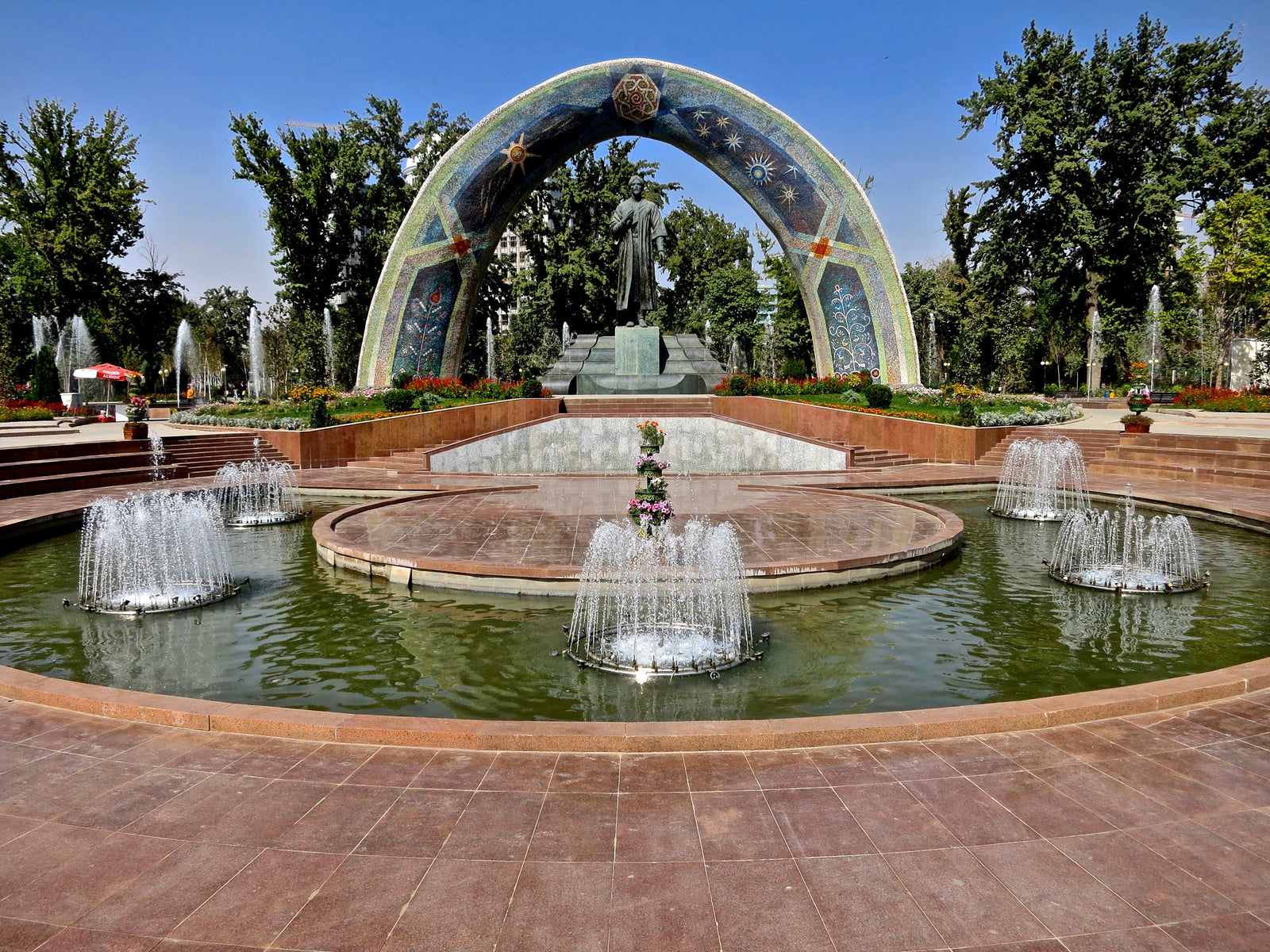 April 25: Dushanbe: Visit to Museum of Antiquity and trip to Open Air Historical Museum at Hissor Fortress (30 km west of Dushanbe), which was already famous in the Middle Ages for its craft production and market. Dinner in Hissor town. Overnight: Dushanbe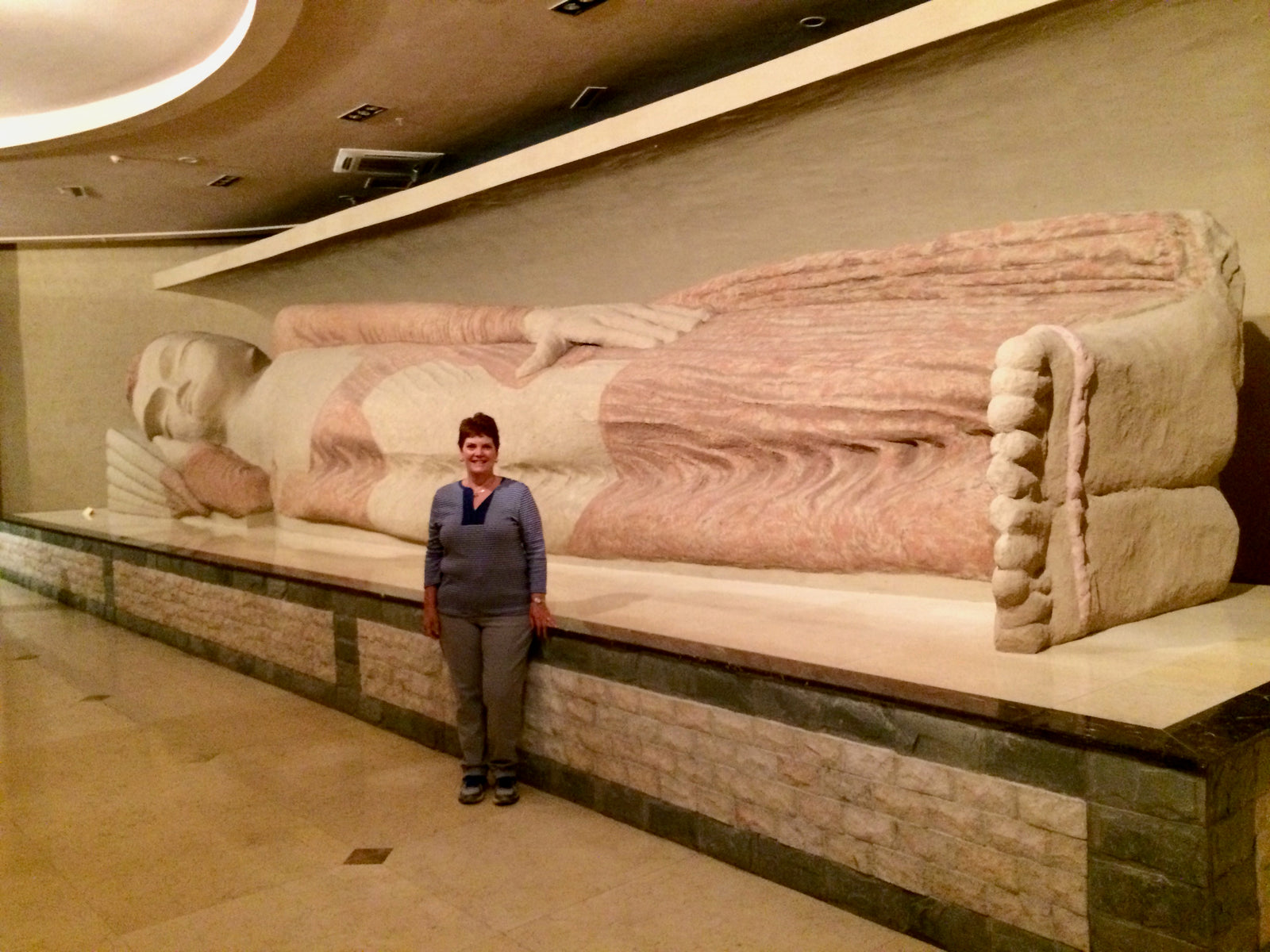 April 26: Dushanbe: Social day with locals. Meeting with locals at American Space, visit to ethnography museum and informal, interactive dinner with local artists. Overnight: Dushanbe
April 27: Travel by minibus to Istaravshan, an ancient Silk Road center of traditional crafts, including carving, ceramics, embroidery and more. Visit studio of 6th generation master wood carver, Usto Sodiq, for demonstration and optional shopping, and other local art masters. Free evening. Overnight: Istaravshan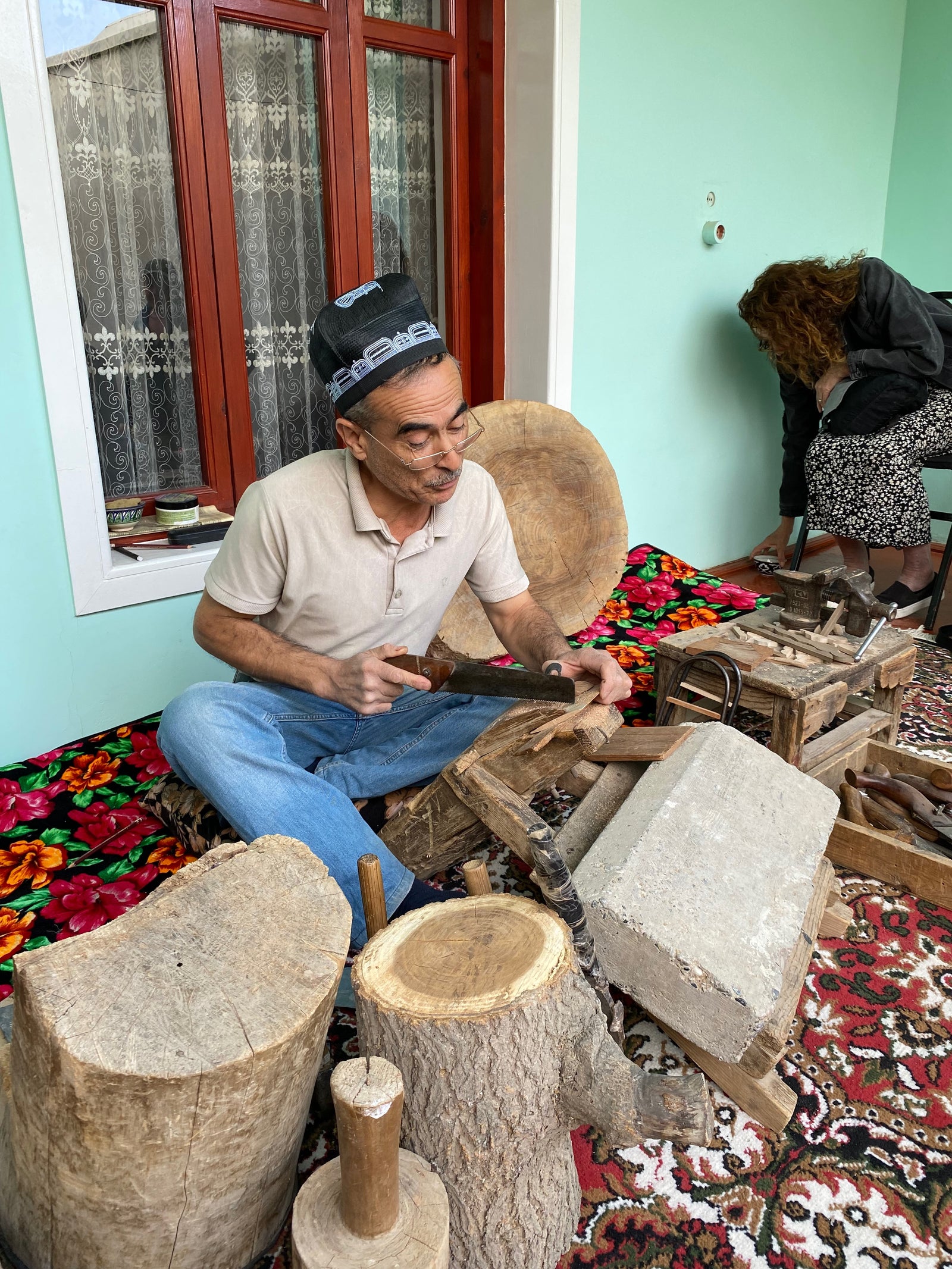 April 28: City tour and visit to local craft college, the only post-secondary institution of its kind in Tajikistan. Transfer to Khujand by mini-bus, evening walk in Khujand. Overnight: Khujand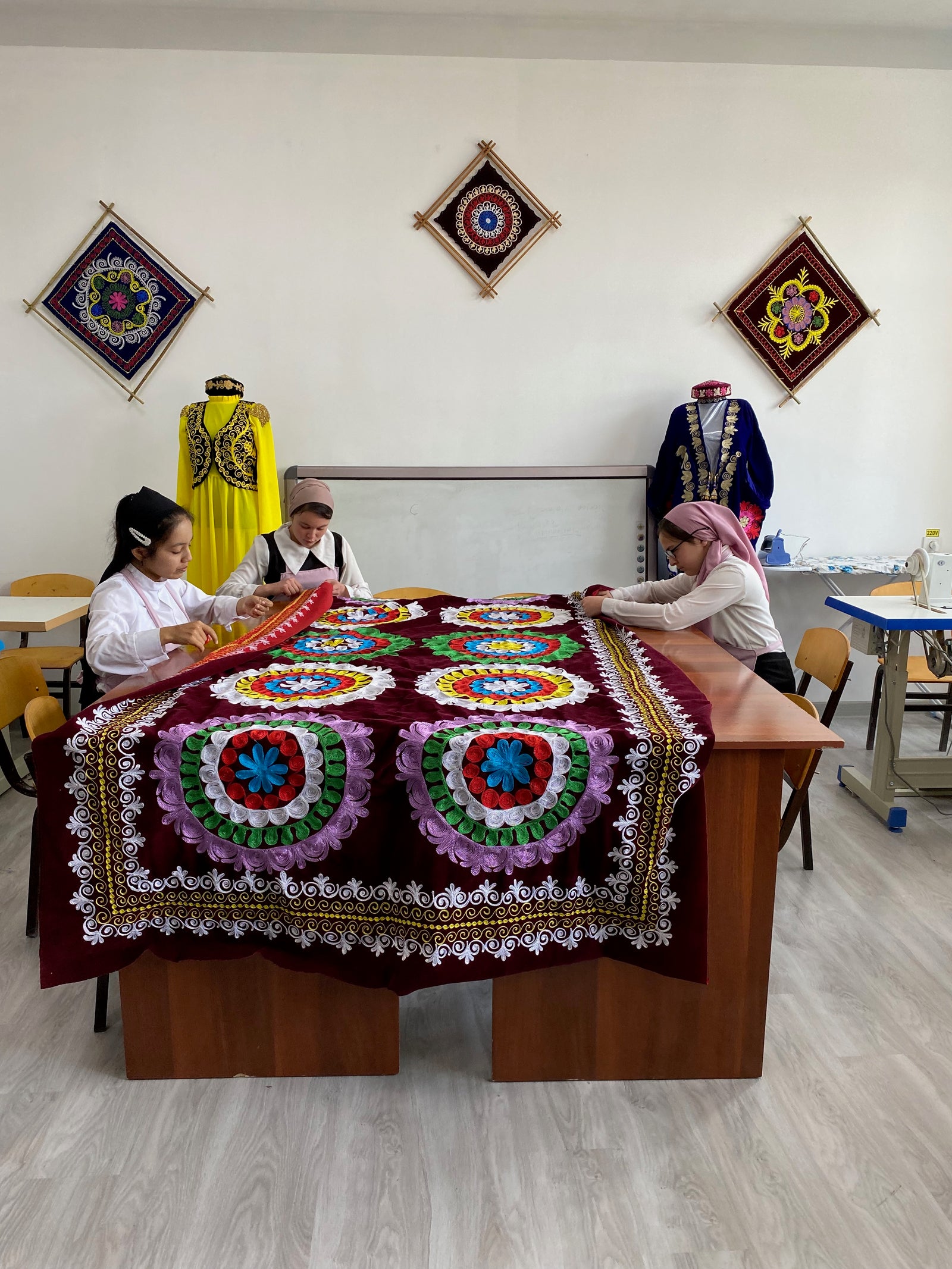 April 29: Visit to the highlights of Ancient Khujand, including the Museum and Fortress. Visit the renowned Panjshambe Bazaar and shop for ingredients for making plov, the national dish of both Tajikistan and Uzbekistan. Group preparation of plov and social gathering/dinner with local alumni of US exchange programs, for an authentic local party. Overnight: Khujand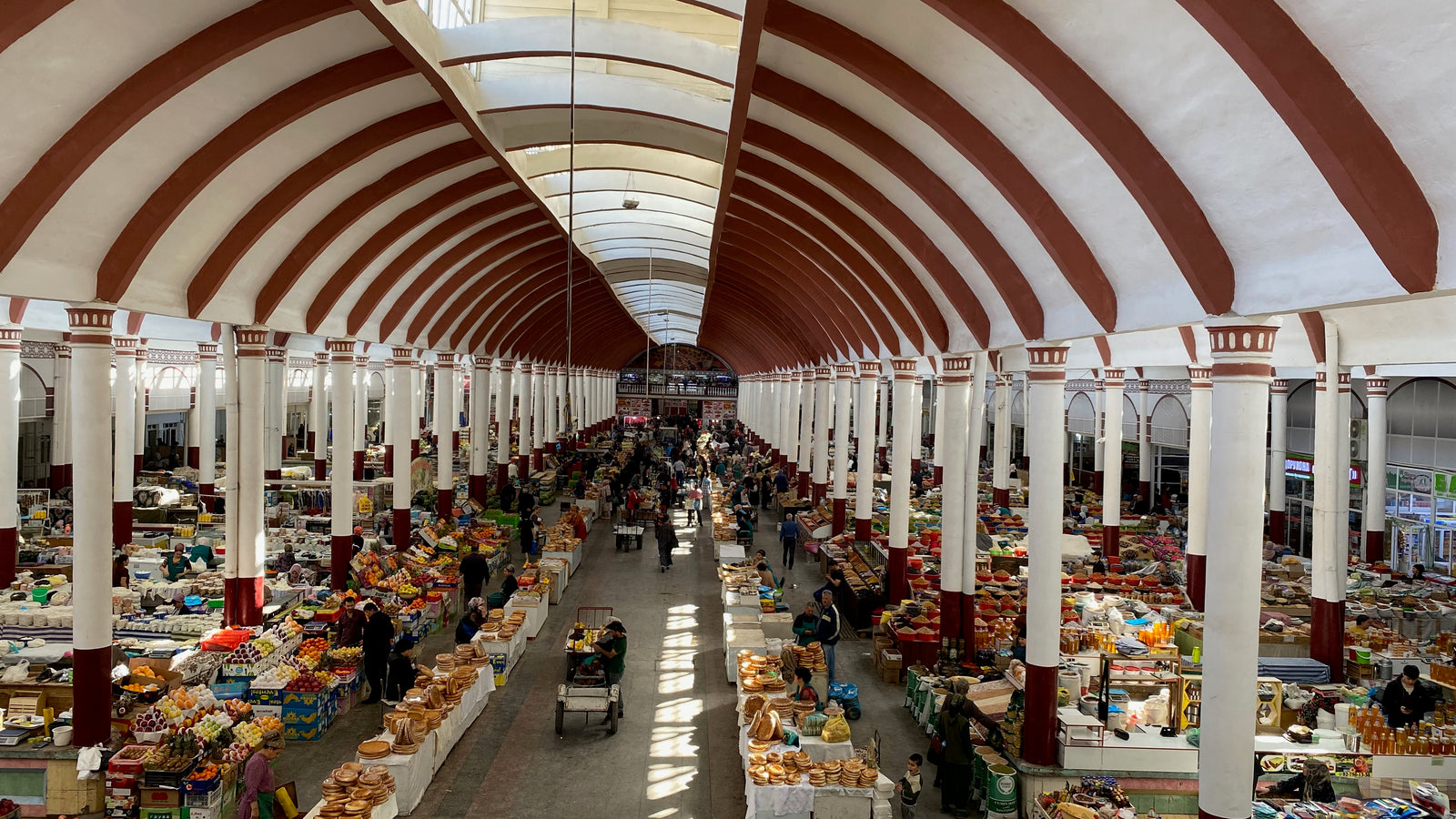 April 30: Arbob Palace, visit to Tajik Sea (formerly known as Kayrakkum Reservoir, an artificial lake on the Syr Darya river). Free evening. Overnight: Khujand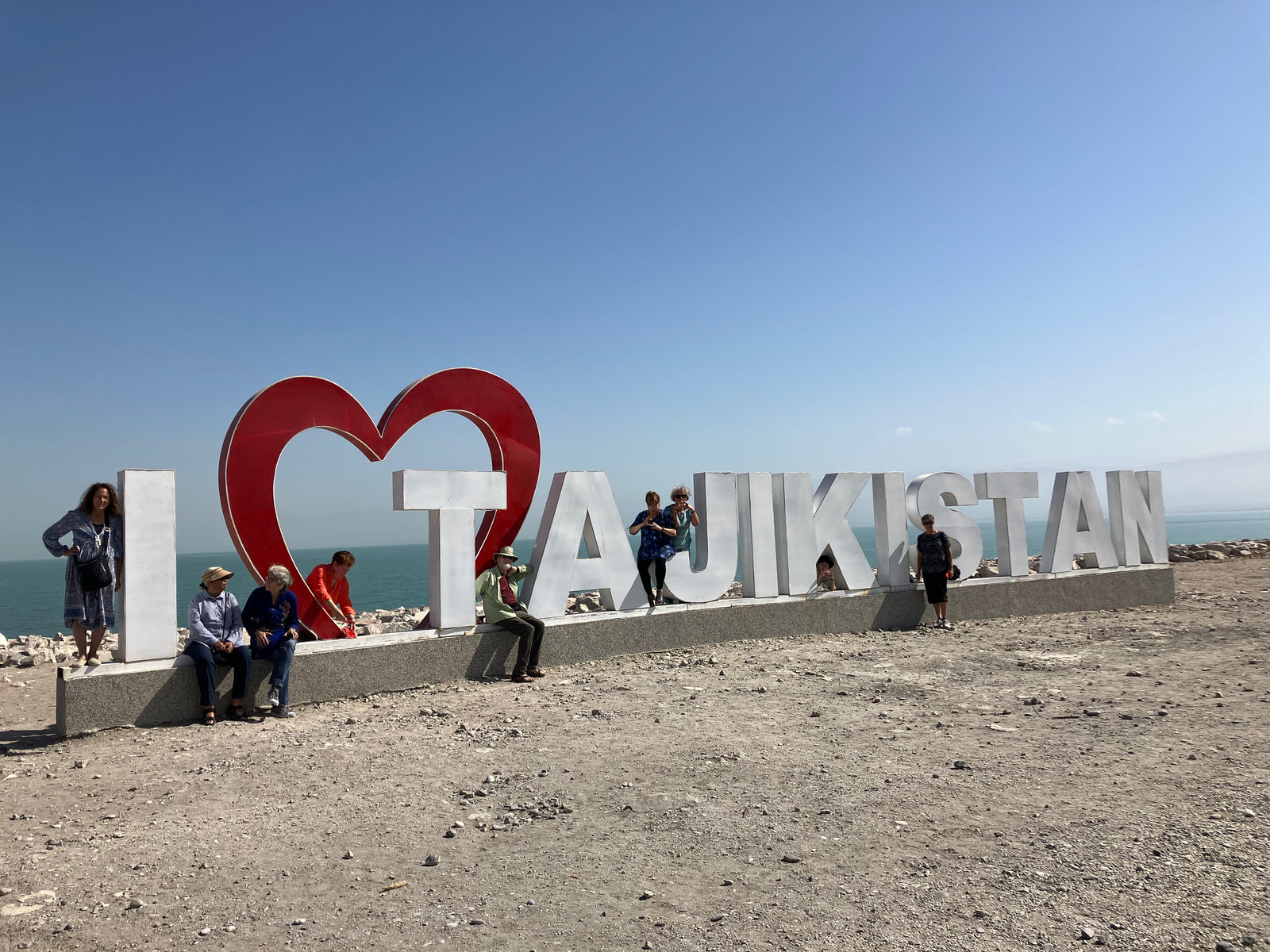 May 1: Travel by minibus to a small heritage-rich rural village located near the Zerafshan River, where part of Munira's team of artisans lives and works. We'll spend the day exploring traditional arts and cooking, with opportunities to participate in cooking samosas, preparation of traditional Tajik bread, weaving, and low intensity hiking in the area. Lunch and dinner in the village, transfer to Panjakent for overnight. Overnight: Panjakent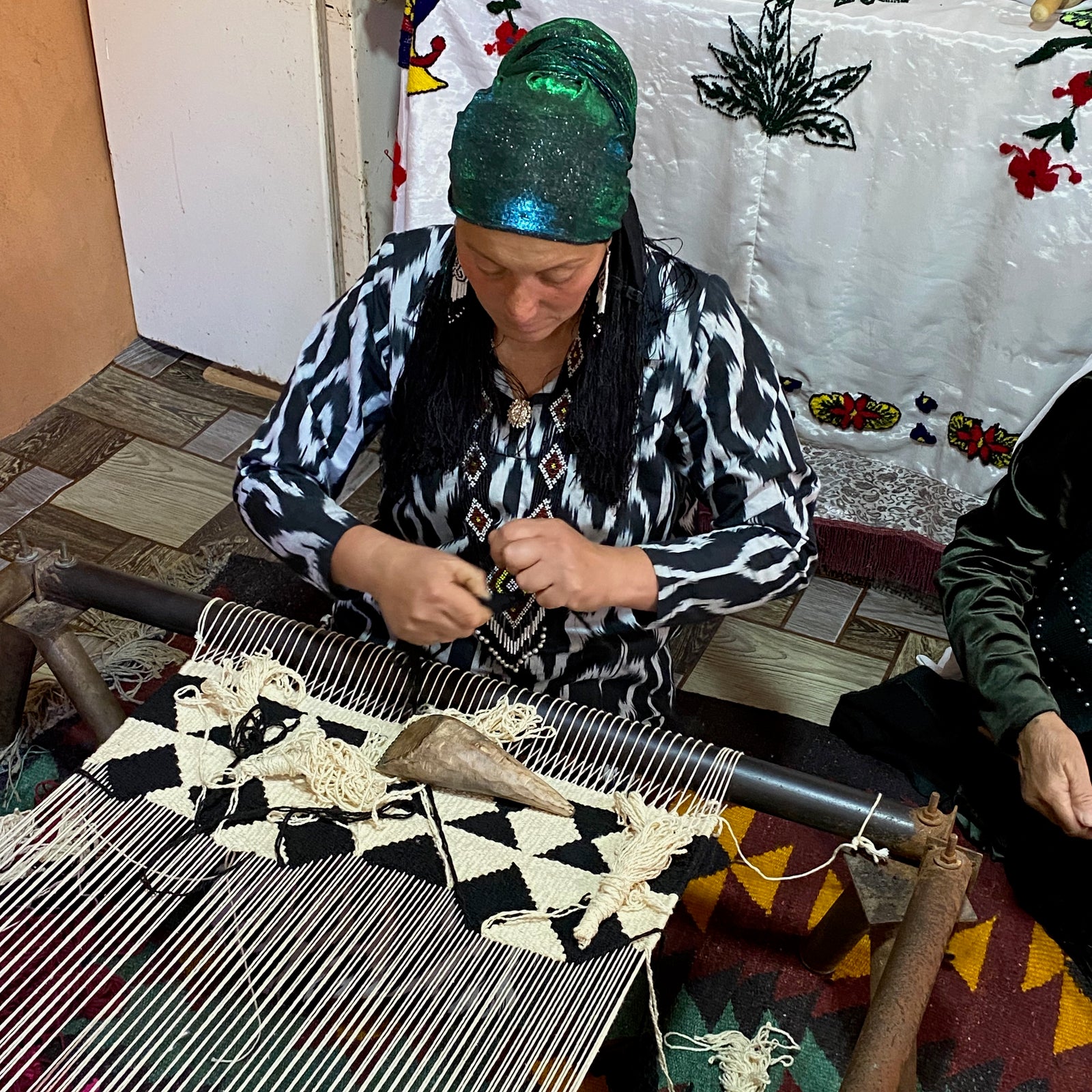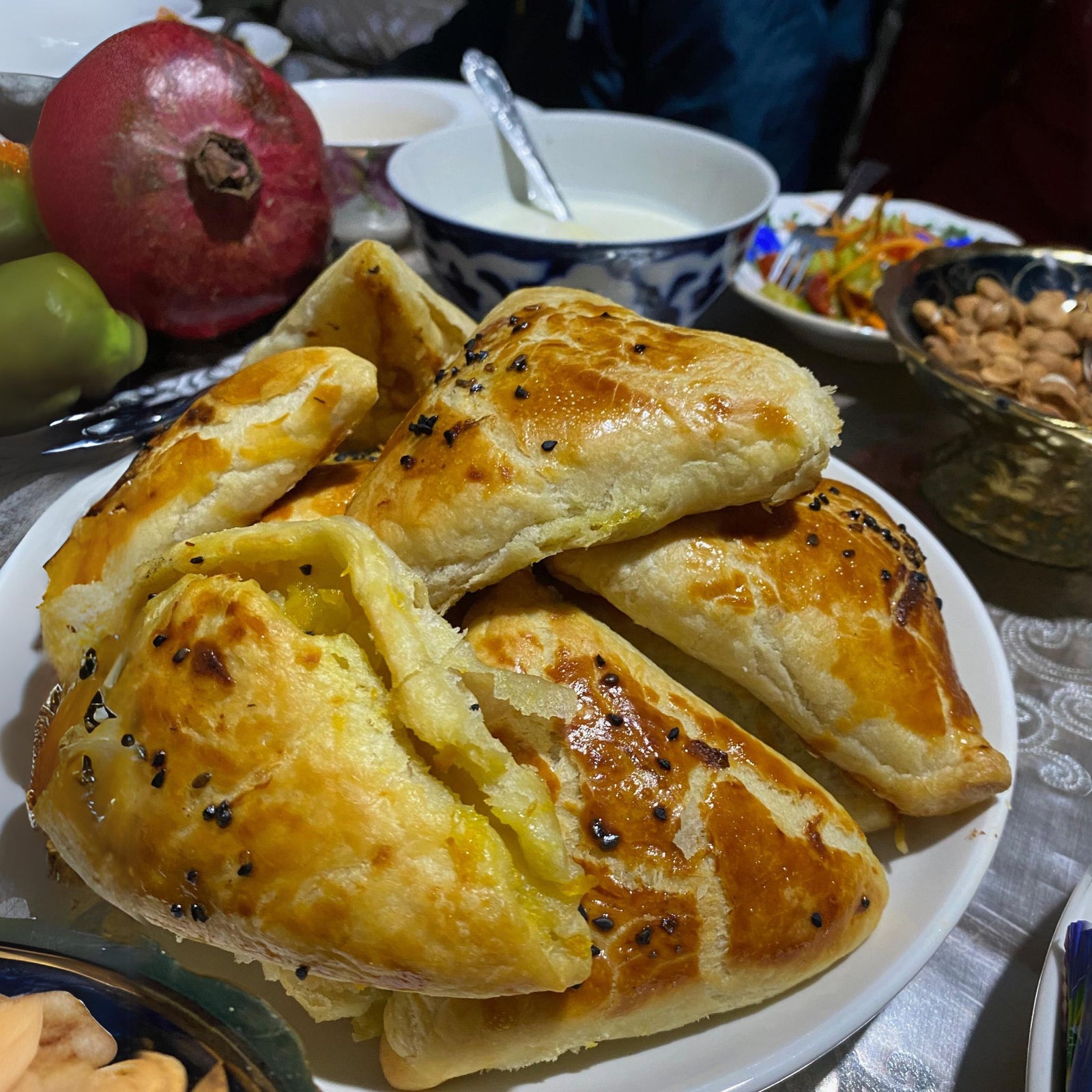 May 2: Visit to two nearby UNESCO World Heritage archeological sites: Ancient Panjakent and Sarazm (oldest proto-city in Central Asia). We'll also enjoy a master class with Munira's team of local artists on the art of making beaded tassels ("pupak"). Overnight: Panjakent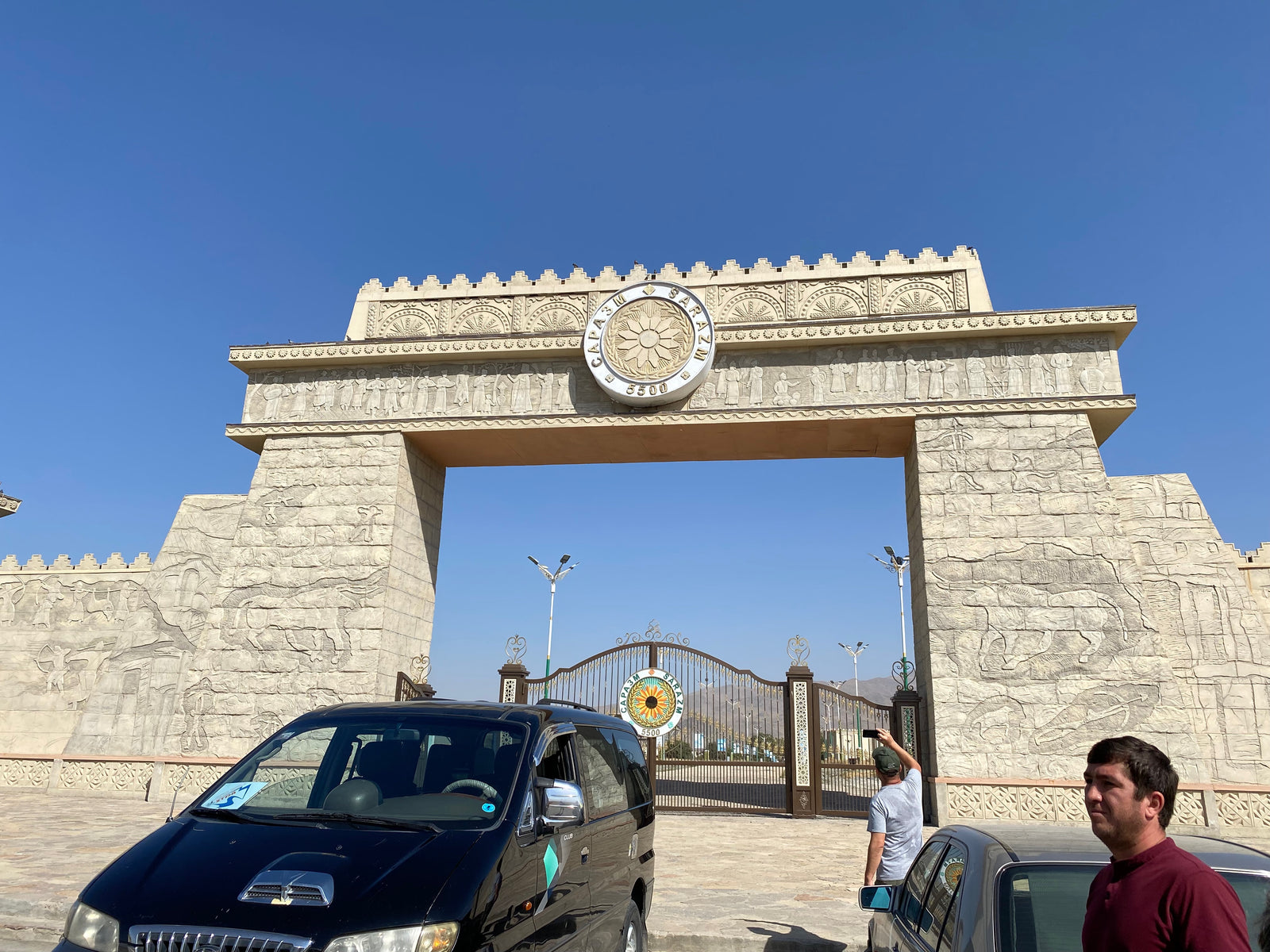 May 3: Early departure for Samarkand (land border-crossing). Visit the world famous Registon, the heart of the ancient Silk Road capital of Samarkand, framed by three majestic madrasas which have been largely restored to their original glory. Registon square was regarded as the heart of the Timurid (Tamerlane) renaissance. Visit to Happy Bird Art Gallery/Shop for a unique shopping opportunity at what many regard as the best shopping experience in Samarkand, with its combination of unique vintage finds and unique modern designs that combine the old and new.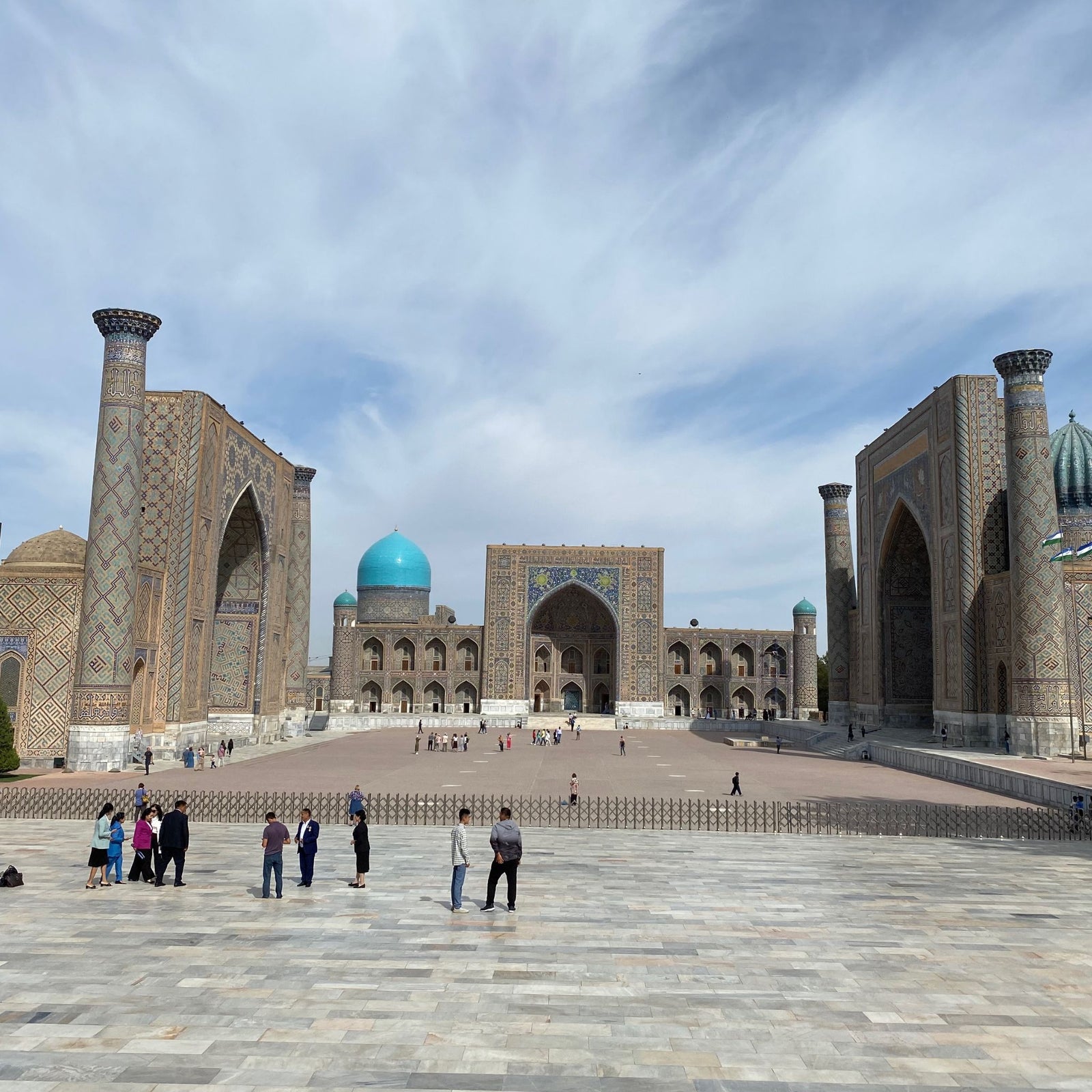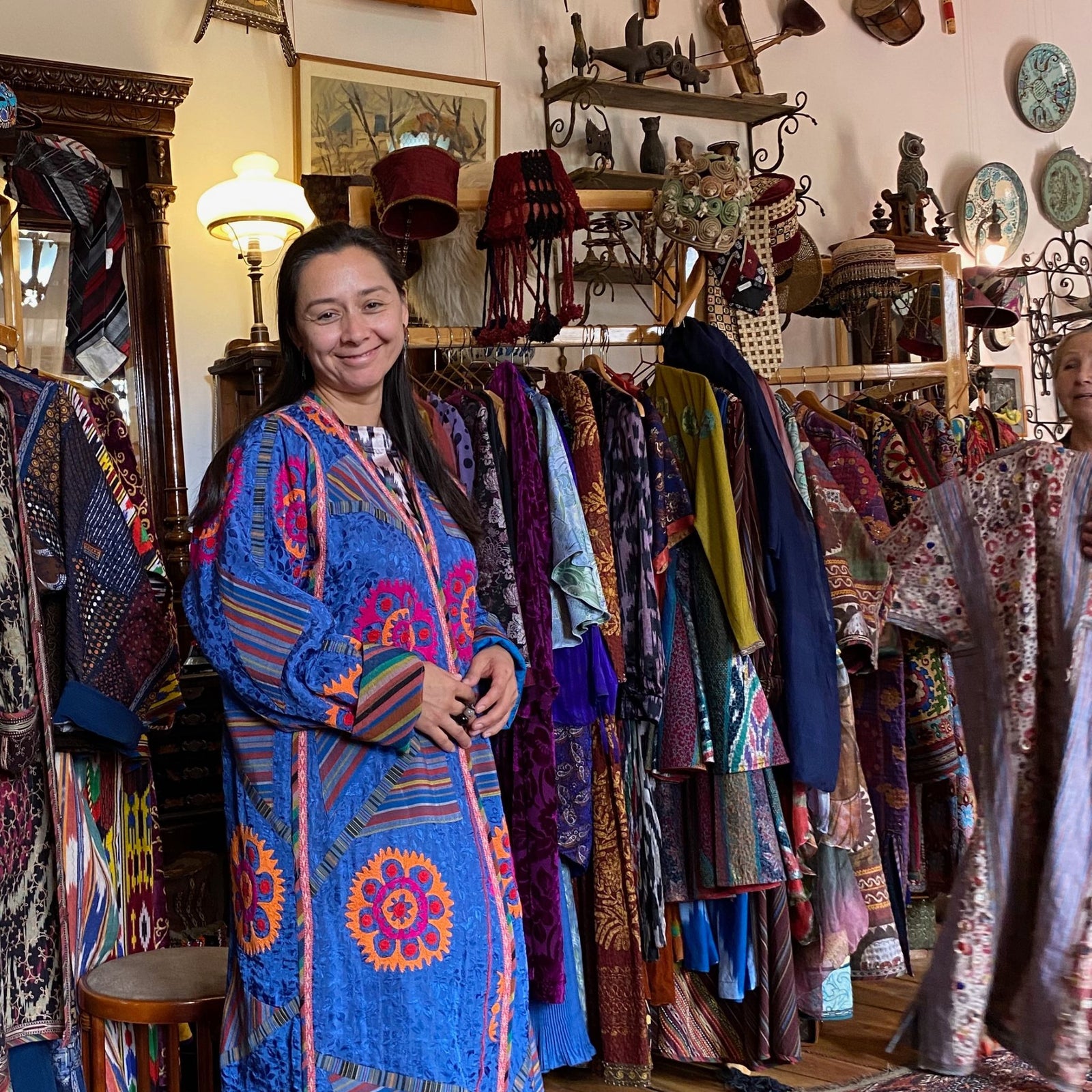 May 4: Visits to the stunning Shohi Zinda mausoleum complex and the historic Ulughbek Observatory. We'll also visit the famous silk carpet factory before we travel by mini-bus to Bukhara. Overnight: Bukhara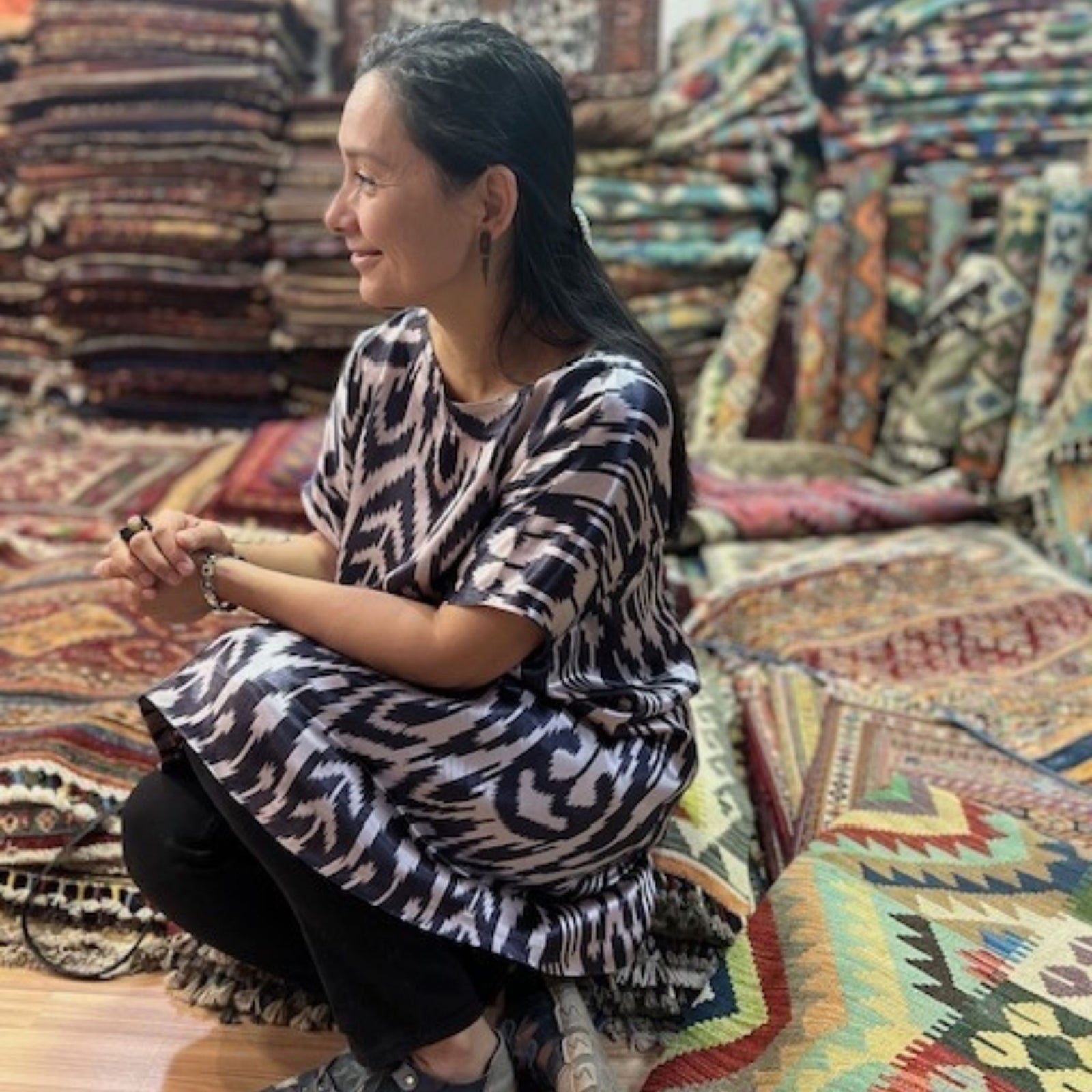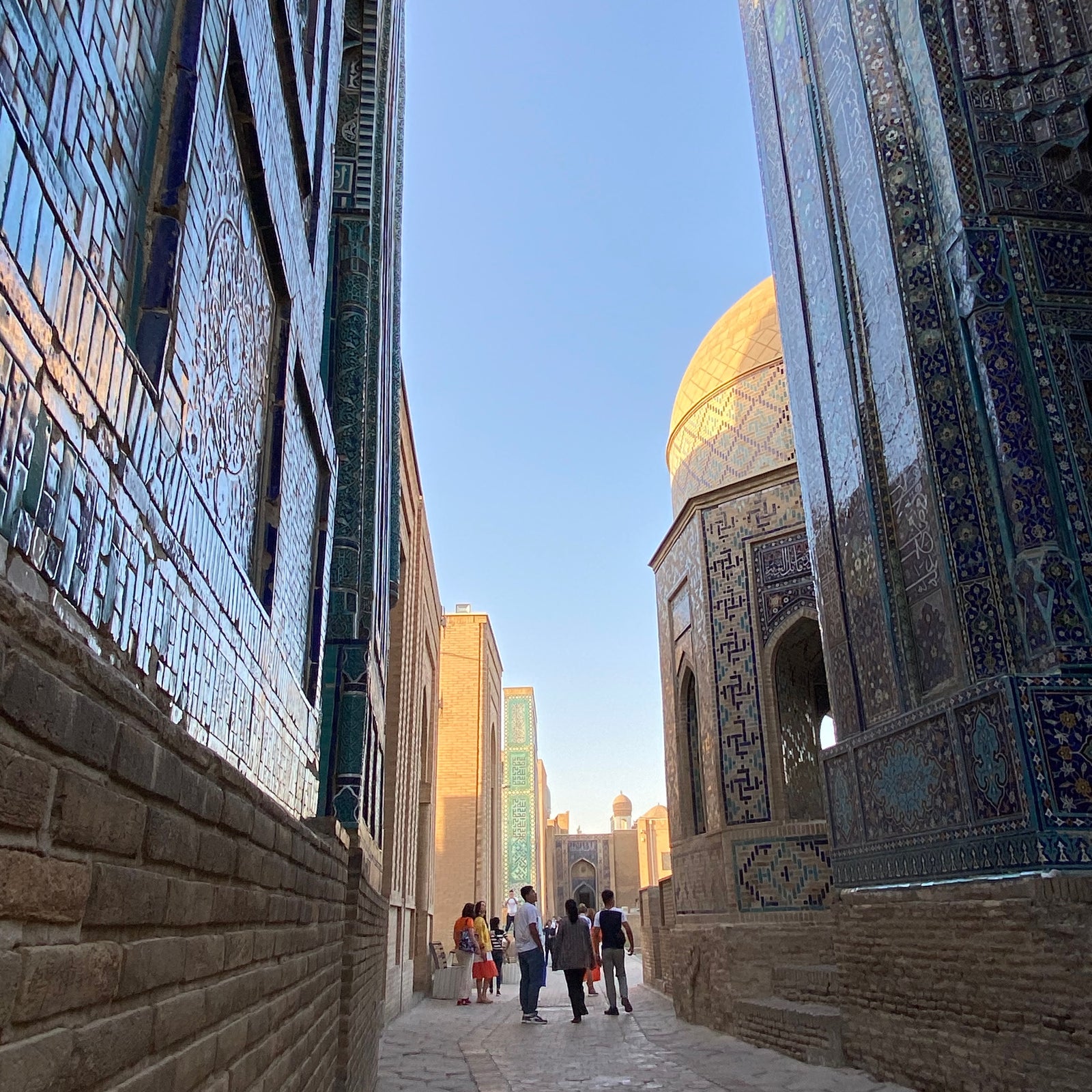 May 5: City tour, including a visit to the Abdullo House Museum. We'll also enjoy a local folklore performance. Overnight: Bukhara
May 6: Travel by train along the Fergana Valley, the "Bread Basket of Central Asia," from Bukhara to Margilan. Overnight: Margilan
May 7: Visit the famous ikat weavers of Margilan, the center of the silk weaving industry of Central Asia. We'll explore the studios of fifth generation weaver Rasuljon Mirzaahmedov and, if his schedule permits, the studios of our own HoonArts master, Aziz Murtazaev. Along the way, we'll see the many laborious stages of this world-famous resist-dyeing process known in Uzbekistan as "abrband" or "tying a cloud".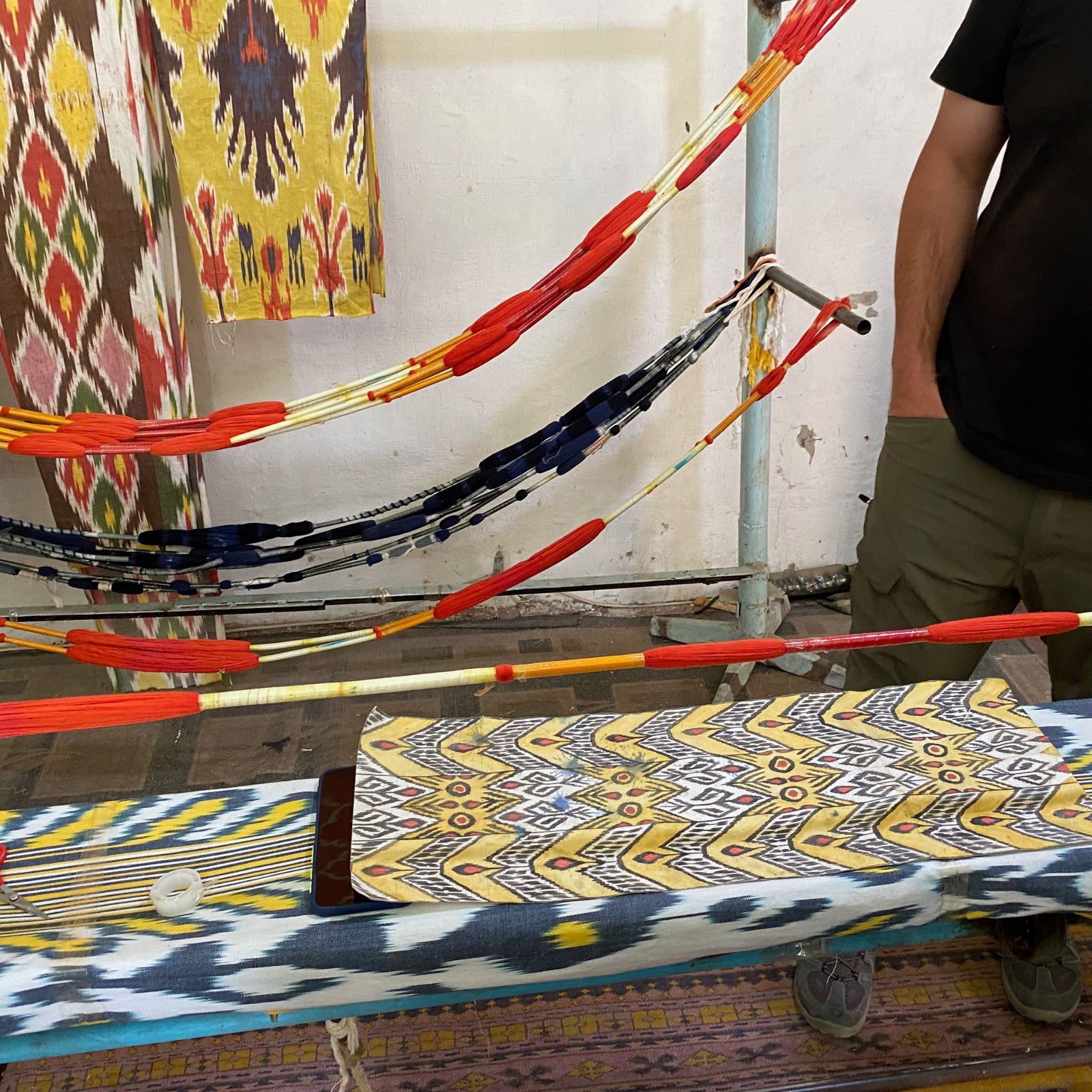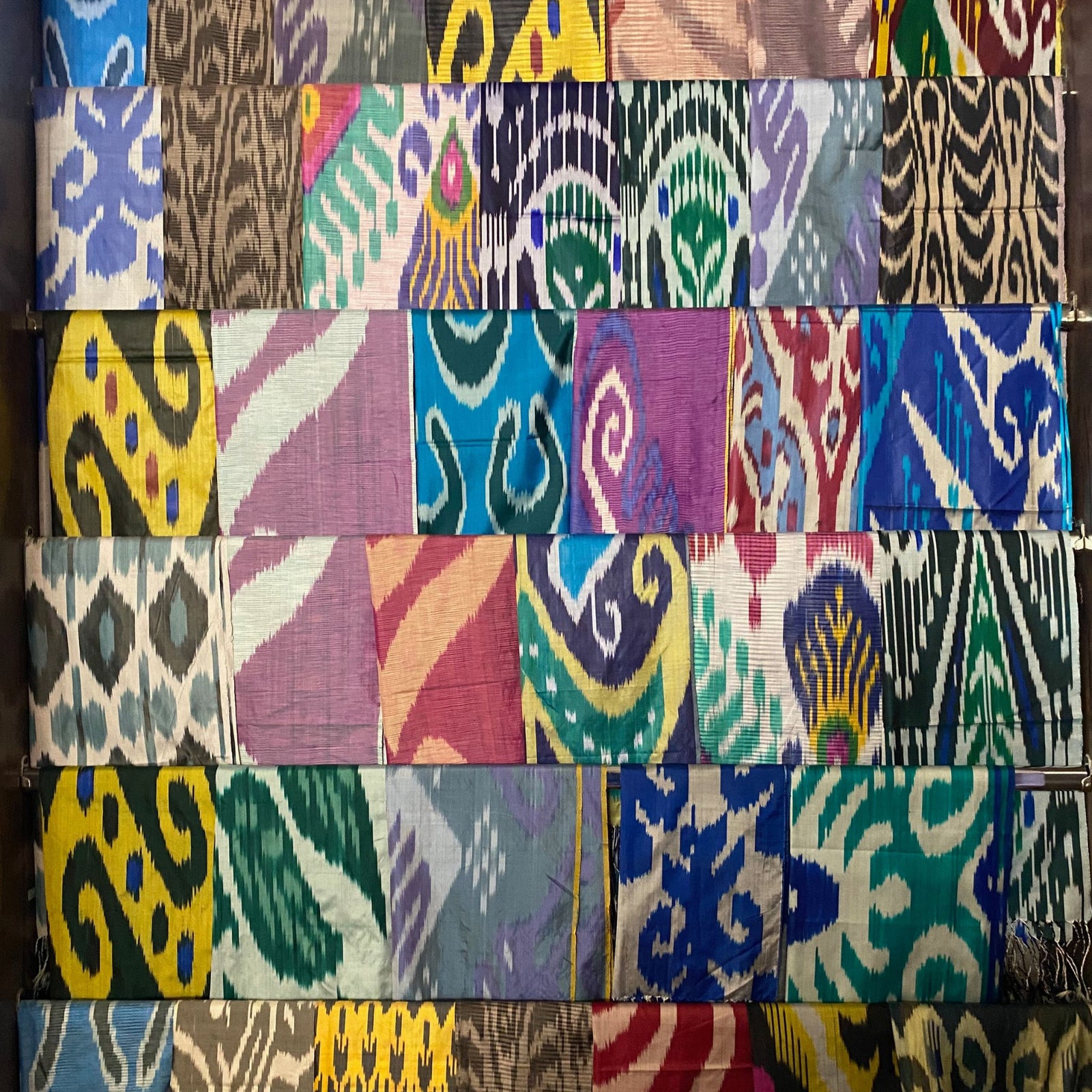 May 8: Visit the ceramics center of Rishtan, home to over 100 ceramics masters. Drawn by the unique local clay, the ceramics masters of Rishtan are known for their brilliant blue and green hues and intricate geometric and floral motifs. Save room for this last unique shopping opportunity to purchase directly from the artists! From Rishtan, we'll return to Tashkent for our farewell dinner. Overnight: Tashkent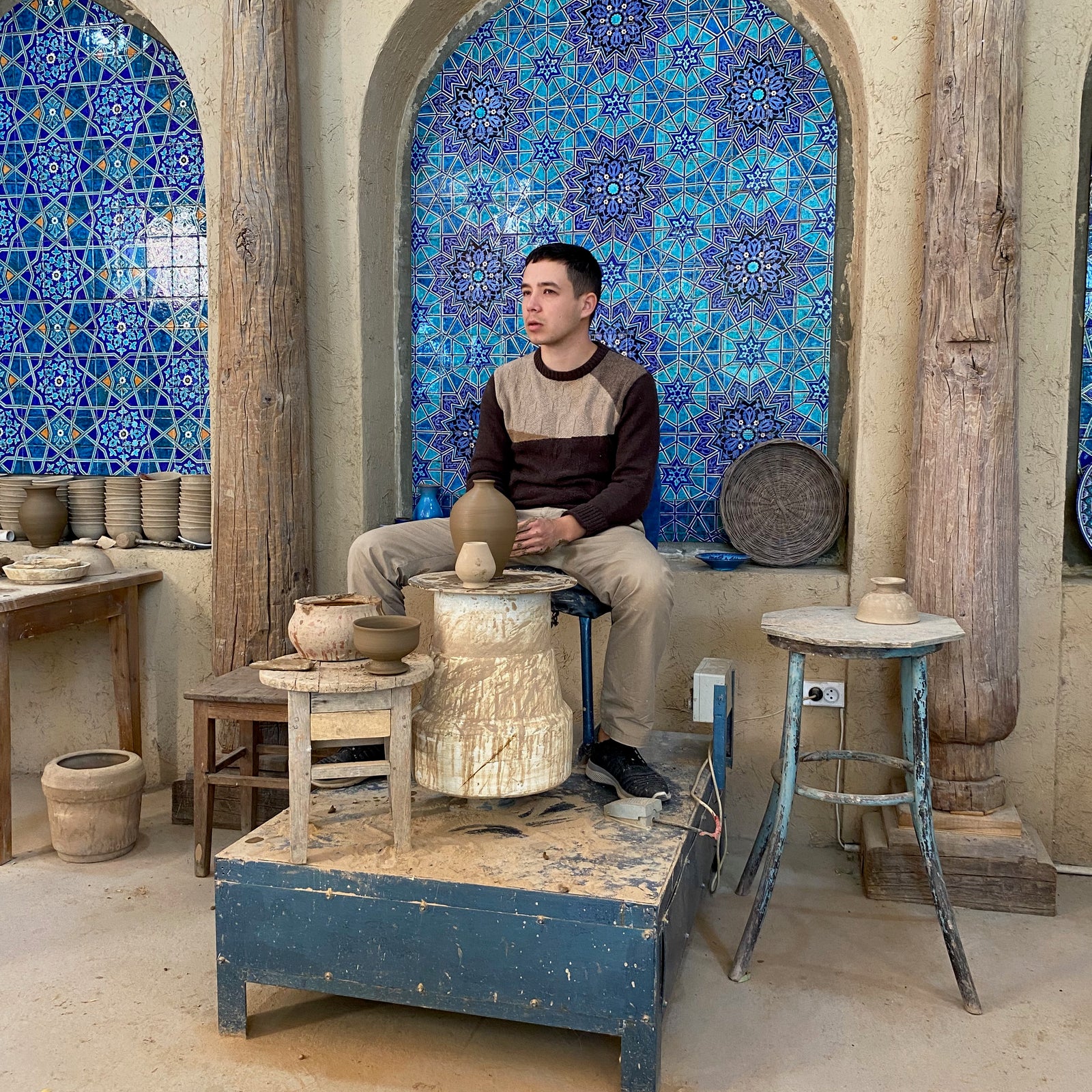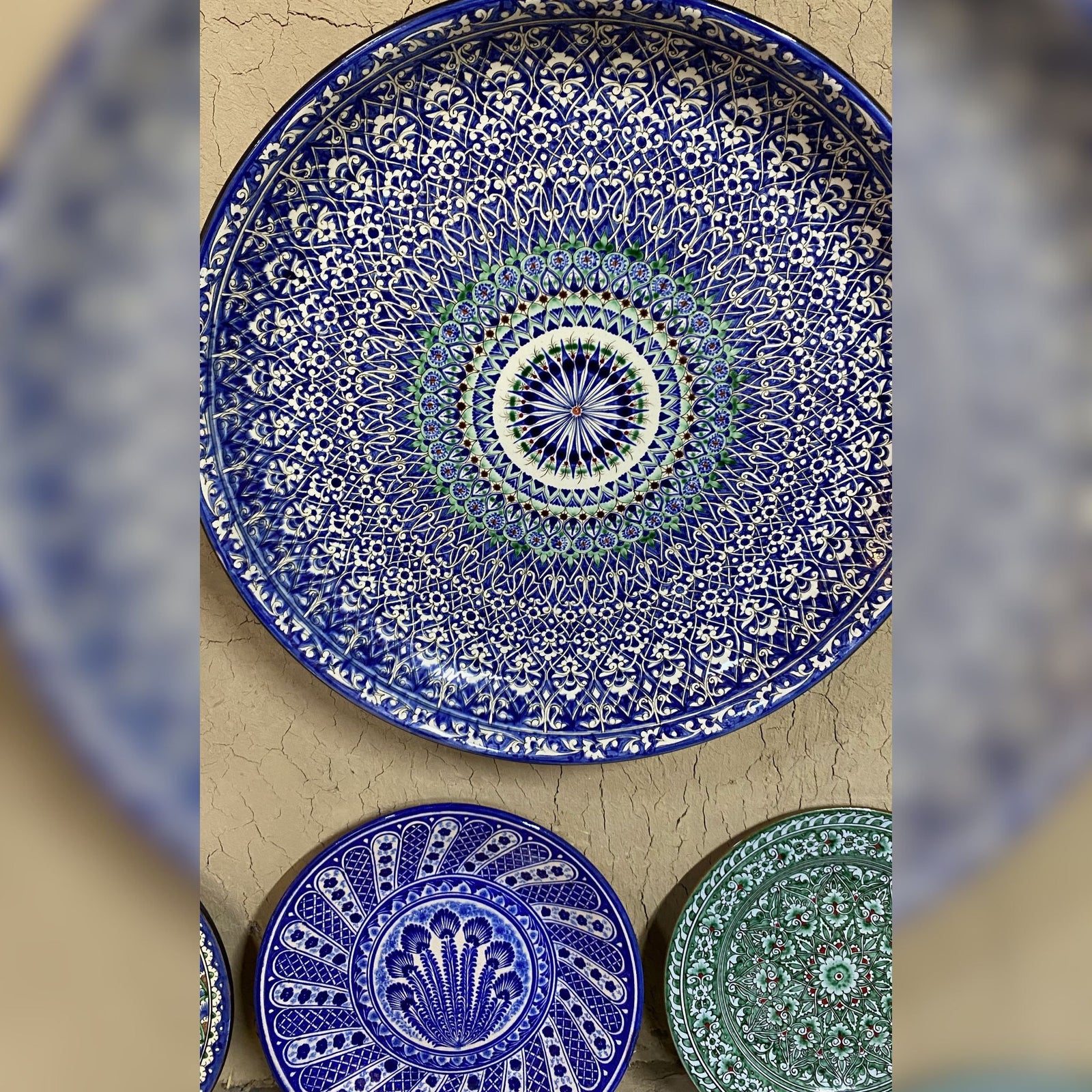 May 9: Transfer to airport for departure.
TOUR PRICE (Single Accommodation): $7495
Based on our 2022 tour, most guests prefer single accommodations, so our local tour providers have priced the tour prices based on single accommodations. Since most of our accommodations are not standardized hotels, but locally owned and operated with a wide variety of room sizes, the cost and availability of standard Western-style double rooms is variable. If a tour guest wishes to share a room with another guest, we will reduce your individual tour prices by the full amount of our actual reduction in cost, based on rooms available at the time your final payment is due.
Included:
-All accommodations, with private baths, Western-style plumbing
-All meals
-All transportation within Uzbekistan and Tajikistan, including air fare from Tashkent to Dushanbe for tour itinerary
-All entrance fees to museums, sites, and special events
-Expert local English-speaking guide services (Munira will be with us the entire trip; we will have an additional experienced guide with us in Uzbekistan)
-Rikki Quintana, founder of HoonArts, will accompany the tour
-Airport transfers to and from arrival and departure hotel in Tashkent
-Train transfers
Excluded:
-International transportation to and from Tashkent
-Tips for guides and drivers (we will provide recommended amounts and collect tips in cash at the beginning of the tour)
-Shopping expenditures
-Passport and visa fees
-Travel insurance (more about this later)
-Transportation, food and other personal expenditures for excursions not on the group itinerary
APPLICATION DEPOSIT: $500 (becomes non-refundable when application is accepted)
SECOND DEPOSIT: $2500, due within 10 days following acceptance of application (will be separately invoiced by HoonArts)
FINAL BALANCE DUE: Jan. 22, 2024
NOTE: In order to make our tour financially viable for HoonArts and our local providers, we must have at least 6 participants, who are fully paid, by Jan. 23, 2024. We can take up to a maximum of 9 guests. If we do not have 6 fully paid guests by January 23, 2023, HoonArts may elect to cancel the tour entirely, in which case HoonArts will refund all your payments. If the Tour fills, we will keep a waiting list in case of late cancellations.
CANCELLATION AND REFUND POLICY (for cancellations by individual participants):
The Tour price is based on group rates reserved and paid in advance, thus a cancellation affects all the trip expense. The $500 application deposit becomes non-refundable once your application is accepted, unless HoonArts cancels the entire Tour (in which case the refund policy for Cancellation by HoonArts applies).
The balance of the Tour price (excluding $500 application deposit) will be refunded based upon the following cancellation schedule:
Cancellation before January 22, 2024: 100% refundable
Cancellation January 22-February 21, 2024: 50% refundable
Cancellation February 22-March 20, 2024: 25% refundable
Cancellation after March 20, 2024: No refund
CANCELLATION AND REFUND POLICY (for cancellation by HoonArts):
If the Tour is cancelled by HoonArts for any reason, refund is 100%, except for your allocable share (based on the total number of Tour participants book at the time of cancellation) of any portion of your payments that has already been paid to travel providers in Uzbekistan or Tajikistan as a non-refundable deposit.
In the event HoonArts finds it necessary to cancel the Tour for reasons beyond our reasonable control (such as, but not limited to, governmental health or other travel restrictions imposed on Tour participants and/or travel on the projected Tour itinerary, that make travel impossible or impracticable), we will use our best efforts to negotiate the refund of any payments already made to international providers. You understand, however, that the changing circumstances of international travel in today's world make it impossible to guarantee the 100% refundability of such amounts.
If you want to join our Tour, please request a Tour Application and Tour Contract and Liability Release ("Application and Contract") by emailing Rikki Quintana at rikki@hoonarts.com.
We will review completed applications, which must be accompanied by payment of the $500 deposit, in the order in which they are received. (You can mail the completed application and deposit to the address below, or send us a scanned version of the contract by email and contact us for payment online.)
Mailing Address:
HoonArts
5716 Teakwood Trl. NE
Albuquerque, NM 87111
Please note that we reserve the right to review all applications and turn down an application for any reason. Submission of the Application and Contract and the deposit does not guarantee a space on the Tour. If we elect not to accept your application, we will refund your deposit in full.