Sukhrob Saidov - Tajikistan
Sukhrob Saidov is a master craftsman of small ceramic forms. Born in 1963 in Dushanbe, Tajikistan, he trained as an engineer-technologist.  He graduated from the Ivanovo Chemical Technology University, after which he worked in a ceramics factory in Tursunzade, Tajikistan.
In the 1990's, Sukhrob decided to establish a small ceramics studio at his home.  The first products fabricated were figurines of women and men in national dress. Two of his products have been awarded the UNESCO Seal of Excellence in 2007 and 2008, namely the teapot with cups and the ceramic aromatic lamp.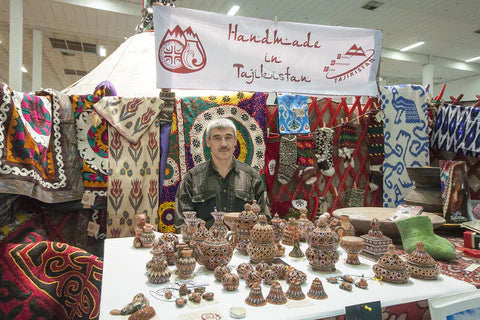 Collectively working with ceramics for more than 25 years, Master Sukhrob's products have been exhibited at the Berlin Fair in 2014, Dubai Jubilee Games in 2016, and the International Cultural Days of Tajikistan, in India in 2018. Master Sukhrob  learned the art of ceramics from previous generations, secrets passed down through the family line, with elements of Sufi mysticism and spirituality.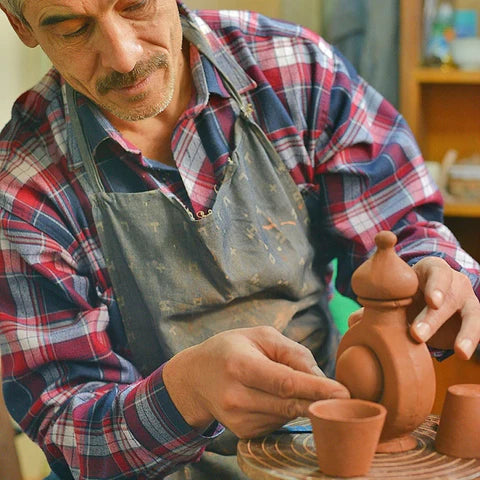 "The origin of the ceramics I make come from a long line of ceramicists and Sufi Muslims in the Nakhshbandia area of Bukhara in Central Asia. My family has deep roots in mysticism and Sufi spiritualism of this area. The techniques were passed down to me via my grandfather, which I have fused with new designs and my own aesthetic."
Master Sukhrob hopes to pass his craft on to his sons, including his 6-year-old son, as well as other students. Unfortunately, right now, it's extremely difficult for Master Sukhrob to continue his work because of limited access to proper tools and equipment. Even his tiny kiln is temperamental and needs replacement.