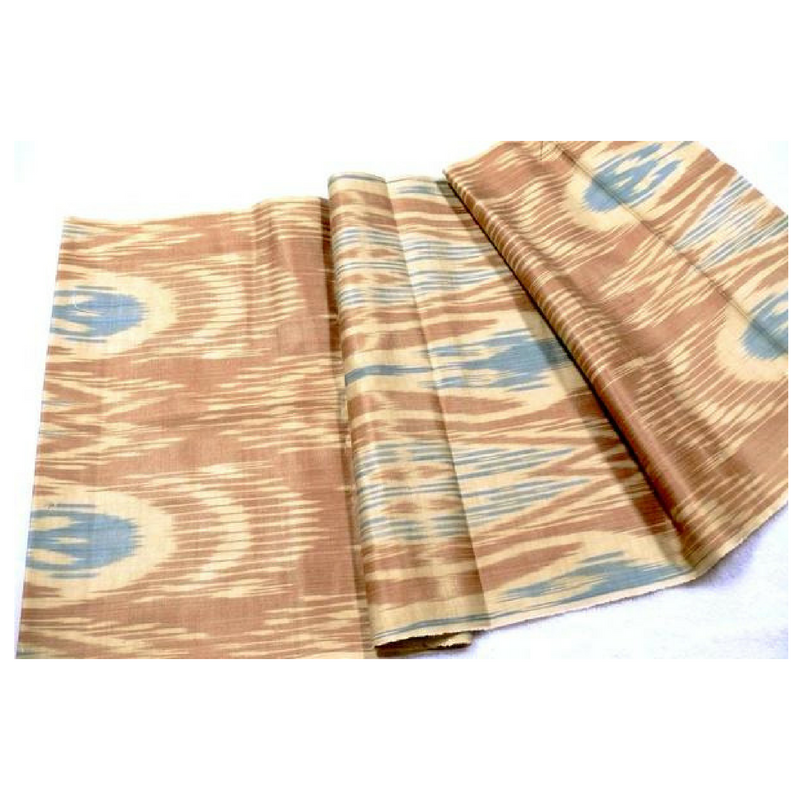 Hand woven, Hand Dyed, Ikat Fabric Tan, Beige & Blue
---
In stock, ready to ship

Inventory on the way
Hand-dyed, handwoven ikat fabric from Margilan, Uzbekistan

Price per yard

16" wide

60% silk; 40% cotton

Dry cleaning recommended

Please note: Ikats are hand woven/dyed, so they often have what would be considered imperfections if they were mass-produced using high powered looms, i.e. flecks of other dye colors, looped yarns and what appear to be runs. This is the inherent beauty of a completely hand woven and hand dyed fabric.

Our ikats, famous throughout Central Asia, come to us from Margilan, Uzbekistan, via SilkWay.  SilkWay works with many different ikat artisan workshops, in order to offer the widest selection of colors and patterns. Because of the time-consuming work involved in producing hand dyed, hand woven ikats, one craftsman can release only a few types of fabric per month. Each artisan has ten or more assistants, mainly consisting of relatives and close friends, in order to keep their patterns and dyeing and weaving techniques "in the family." These family secrets are passed down from generation to generation. Click here for more information about ikats and SilkWay.